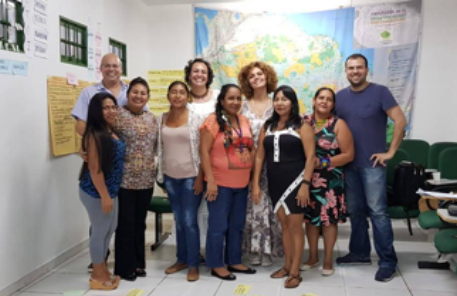 The Union of Indigenous Women of the Brazilian Amazon, or UMIAB, was founded in July 2009 with the goal of creating awareness of the challenges that disproportionately affect indigenous women, such as climate change, the effects of a changing diet, violence, and a decrease in the availability of traditional foods as a result of logging and other illegal activities. UMIAB has also sought to defend the collective rights of indigenous women and advocate for public policies that protect indigenous women across Brazil's Amazon region.
During its history, UMIAB has sought to create awareness of these issues by participating in forums and public spaces that give voice to indigenous women, drawing greater national and international attention to the challenges faced by indigenous women.
For example, in August 2019, representatives of UMIAB helped organize and participated in the first Indigenous Women's March. Over two thousand women, representing 113 indigenous groups, marched in front of the National Congress in Brasilia to demand that the Brazilian government respect their rights to ancestral lands and guarantee their human rights.
While participating in these events has helped raise awareness, UMIAB has faced a number of challenges in effectively engaging with its own membership base, distributed across nine states of the Brazilian Amazon. The logistical challenges and costs associated with capturing and responding to the needs of its members have made it difficult for UMIAB to perform its role of representing and giving voice to the struggles of indigenous women in the Amazon.
As a result, UMIAB's leadership has prioritized the need to hold its third General Assembly in 2020. This event will bring together indigenous women leaders and representatives from across the nine states, as well as partners and potential donors who seek to support indigenous women.
As part of the USD$20,000 small grant that UMIAB has received through its participation in Pact´s led «Strengthening the Capacity of Indigenous Organizations in the Amazon» (SCIOA) program, UMIAB has created a plan to organize its third General Assembly. A critical factor to help make the event a reality is the need to secure additional support and resources from new and existing donors.
With support from the International Institute of Education of Brazil (IEB), SCIOA's local partner in Brazil, and the Coordination of the Indigenous Organizations of the Brazilian Amazon (COIAB), UMIAB has secured a matching grant of BRL $30,000 (USD$7,000) from the Ford Foundation to help cover costs of organizing its General Assembly. While a date and format for the event is still pending due to the COVID-19 pandemic, the General Assembly will be a unique opportunity for organizations to learn about the issues impacting indigenous women in the Amazon and identify ways to support UMIAB's efforts to defend the rights of indigenous women in Brazil's Amazon.